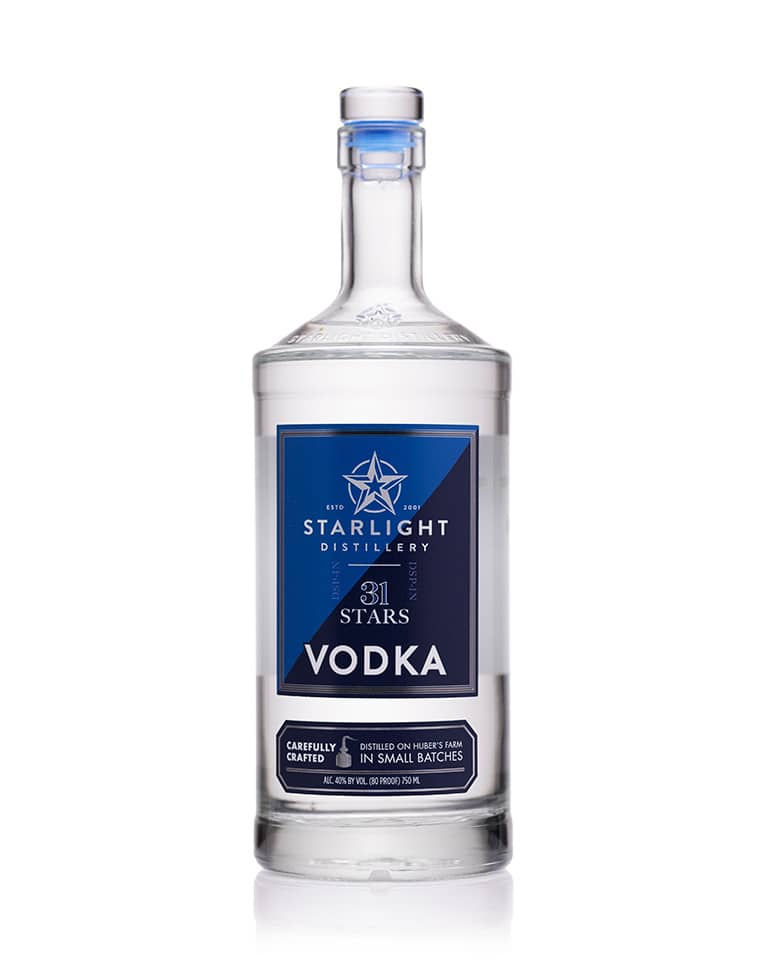 31 Stars Vodka goes from grain to bottle starting with non-GMO heirloom corn which is grown, milled, mashed, distilled, and bottled by our family and on our 850 acre farm in Starlight, Indiana. Named after our distilled spirits plant number for Indiana: DSP-IN-31. "Stars" relating to our community of Starlight, Indiana. Locally farm grown, non-GMO corn. Corn grown on estate and harvested, milled, mashed, & distilled. Distilled 7 times on a copper pot still.
Taste
Vanilla, corn and smooth.
Nose
Sweet, corn and vanilla.
Featured Cocktail
Vodka Strawberry Fizz
Ingredients
2.5 ounces sliced fresh strawberries from approximately 5 medium berries

0.5 ounce freshly squeezed juice from 1 lime

6-8 mint leaves

2 ounces Starlight Distillery 31 Stars Vodka

2.5 ounces club soda

Lime wheel, mint, or strawberry for garnish (optional)
Instructions
In a cocktail shaker, combine strawberries, simple syrup, and lime juice and muddle until strawberries are completely dissolved. Add mint leaves and gently tap 5 times with muddler. (Do not over-muddle mint or it will taste bitter and muddy.) Add vodka to the shaker and fill 2/3 full with ice. Shake until well chilled, about 15 seconds.
Fill a Collins glass with ice and add club soda. Fine-strain cocktail into glass and stir gently. Garnish with lime, mint, or strawberry, if desired.